Bio-Heal 5-In-1 Probiotic Powder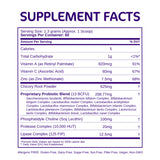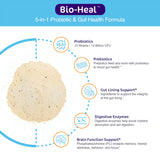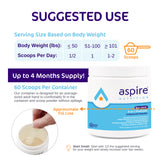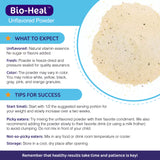 Bio-Heal 5-In-1 Probiotic Powder
Bio-Heal is a revolutionary 5-in-1 probiotic designed to support healthy gut, immunity, and brain function. In addition to the 12 premium-grade probiotic strains and 13 billion CFU's (colony-forming units) per serving - Bio-Heal's formula also contains 4 other potent gut-health supplements for added support, extra strength, and accelerated results.
60 Scoops - Up to 4-Month Supply Depending on Weight
90-Day Guarantee

Safe and Natural

Quality Assured
Benefits of Bio-Heal 5-In-1 Probiotic Formula
Promote Healthy Gut Bacteria*

Restore balance and promote the growth of healthy gut bacteria responsible for healthy digestion, immune support, and healthy detoxification. Bio-Heal contains prebiotics to support the growth of healthy bacteria.

Brain Function Support*

The gut-brain axis refers to the physical and chemical connections between your gut and brain. Millions of nerves and neurons run between your gut and brain. Bio-Heal is a powerful tool in supporting healthy brain function. It contains specific strains of bacteria and phosphatidylcholine (PC) that have been studied to support healthy brain function.

Supports Healthy Immune Response*

Nearly 70-80% of all immune system functions are regulated in the gut. Probiotics can help to assist your immune system and its ability to fight colds and other infections.

Detox Support*

Bio-Heal helps support the flushing out of toxins that may cause inflammation.

Boost Digestion & Nutrient Absorption*

Digestive enzymes especially help break down foods that our bodies have trouble digesting on their own, such as dairy and wheat. When our bodies cannot digest properly, it can lead to increased inflammation. Bio-Heal contains digestive enzymes to support the digestion of and nutrient absorption from proteins, fats, and complex carbohydrates.

Inflammation Fighters*

Inflammation can be caused by a list of gut health issues, including but not limited to leaky gut, food allergies and intolerances, and imbalance of gut bacteria. Bio-Heal helps fight chronic inflammation by supporting the lining of the gut, aiding in digestion of hard to digest foods, and promoting a healthy balance of gut bacteria.
Bio-Heal 5-in-1 Probiotic Powder: Your Ultimate Gut-Healing Solution!
Not All Probiotics are 
Created Equal
| | | | | |
| --- | --- | --- | --- | --- |
| Probiotic Strains | 12 | 1 | 1 | 2 |
| Potency: Billion CFUs | 13 | 10 | 1 | 4 |
| Prebiotics | | | | |
| Digestive Enzymes | | | | |
| Gut Lining Support | | | | |
| Brain Booster | | | | |
| Contains L. Reuteri | | | | |
| Servings Per Container | 60 | 30 | 30 | 30 |
| Price Per Serving | $0.83 | $0.80 | $0.96 | $0.70 |
| Filler Free | | | | |
| Money Back Guarantee | 90 days | 90 days | 30 days | 30 days |
Easily Mixes with Food and Drink: Your kids will love it too...
We designed Bio-Heal specifically for people with taste and texture sensitivities. Bio-Heal comes in an easy to mix "flavorless" powder that easily blends with food or drink.
5 Supplements in Every Serving
1. Probiotics - 12 Strains and 13 Billion CFU's
Our Probiotics and Prebiotics pack a powerful punch! Every serving contains over 13 Billion CFUs and 12 unique strains that have been known to support digestive health, immune support, and healthy levels of inflammation.
Strains include: S. Boulardii, L. Reuteri, L. Plantarum, B. Bifidum, B. Lactis, B. Longum, L. Acidophilus, L. Rhamnosus, L. Lactis, B. Breve, B. Infantis, L. Casei. Learn more about our Probiotics.
2. Prebiotics
Prebiotics work together with probiotics allowing specific changes to occur, both in the composition and activity of the gastrointestinal system. They play a fundamental role in preserving health by maintaining the balance and diversity of intestinal bacteria. (Think of these as 'food' for the probiotics.)
3. Gut Lining Support
Intestinal lining permeability (leaky gut) can cause chronic inflammation and food addiction. We designed Bio-Heal with ingredients to support the integrity of the gut lining for optimal health.
4. Digestive Enzymes
Digestive enzymes help boost nutrient absorption and aid digestion. These enzymes support the digestion of proteins, fats, and complex carbohydrates found in today's processed foods.
5. Brain Function Support
Approximately 60% of the brain is fat. Low levels of Phosphatidylcholine (PC) in the body impact the brain and heart, affecting memory, mental alertness, behavior, and focus*.
Most probiotics only contain healthy bacteria but don't address inflammation levels or the integrity of the gut lining...supplement companies claim the ingredients are too expensive.
Supplement Facts
Serving Size: 1 Scoop
Servings Per Container: 60
Weight: 1.33 g
Flavor: Unflavored
Amount Per Container
% DV
Total Carbohydrate
<1 g
<1%*
Vitamin A (as Retinyl Palmitate)
820 mcg
91%
Vitamin C (Ascorbic Acid)
60 mg
67%
Zinc (as methionate)
7.5 mg
68%
Phosphatidyle Choline
100 mg
†
Protease (10,000 HUT)
20 mg
†
Lipase (125 FIP)
12.5 mg
†
Proprietary Probiotic Blend (13 BCFU)
208.77mg
†
Saccharomyces boulardii, Lactobacillus plantarum, Bifidobacterium bifidum, Bifidobacterium lactis, Bifidobacterium longum, Lactobacillus acidophilus, Lactobacillus reuteri, Lactobacillus rhamnosus, Lactococcus lactis, Bifidobacterium breve, Bifidobacterium infantis, Lactobacillus casei
† Daily Value (DV) Not Established
Allergens: Gluten-Free, Nut-Free, Dairy-Free, Soy-Free, Vegan, Non-GMO
}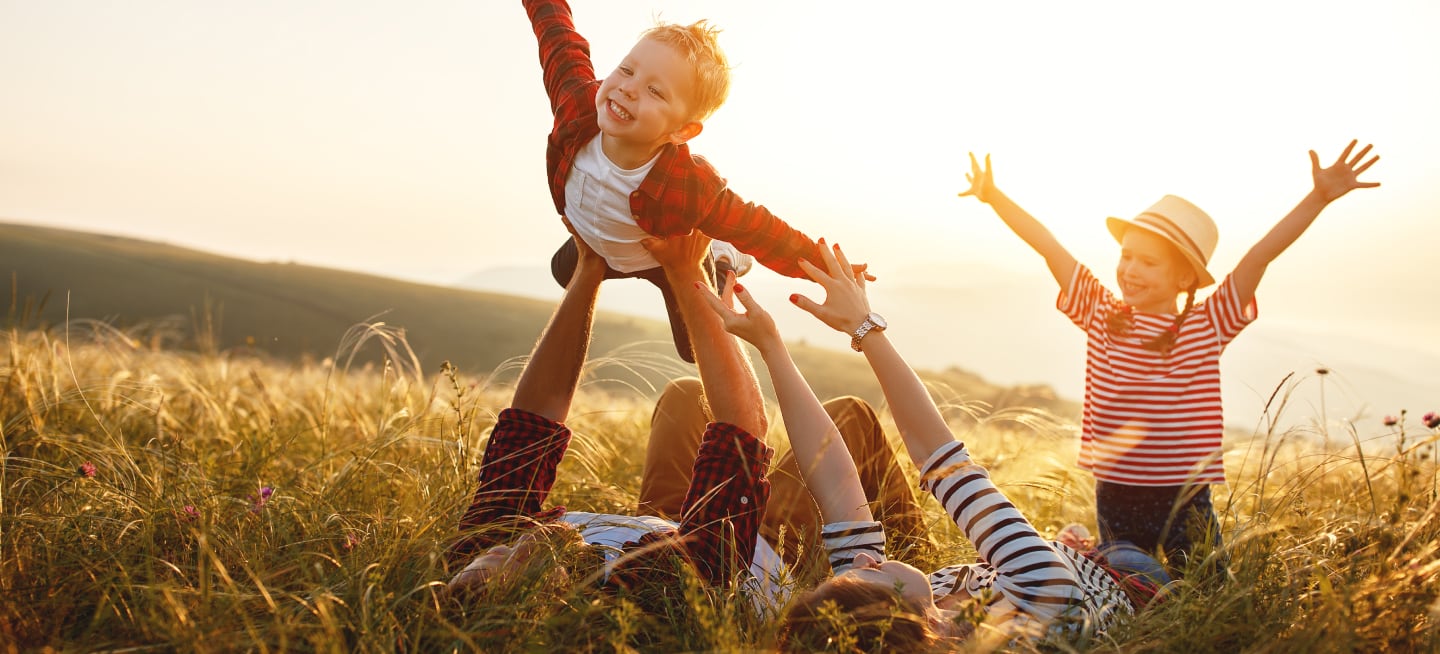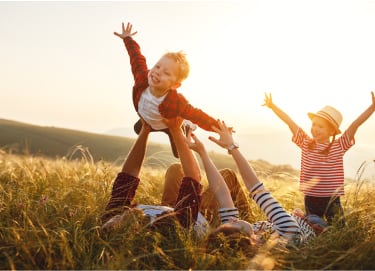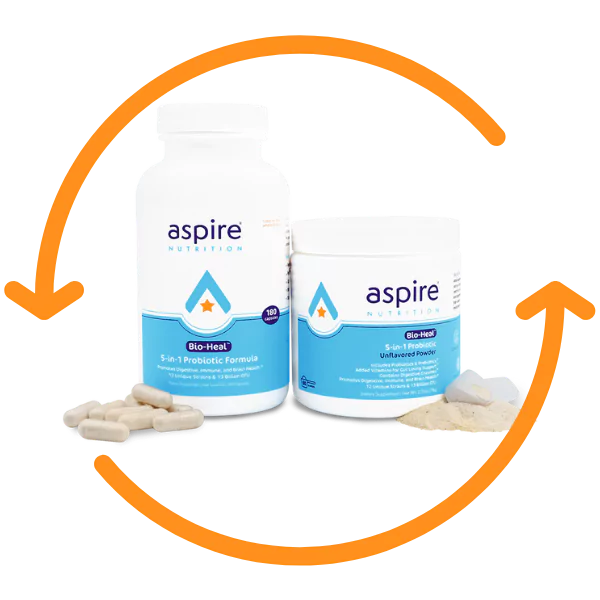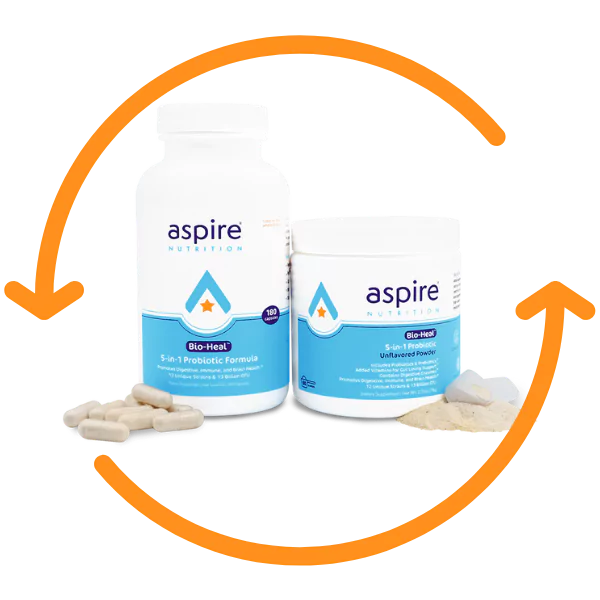 Your Routine on Repeat
Subscribe to your favorite Aspire Nutrition supplements and save 10% on every order, plus free domestic shipping on orders of $70 or more, and more!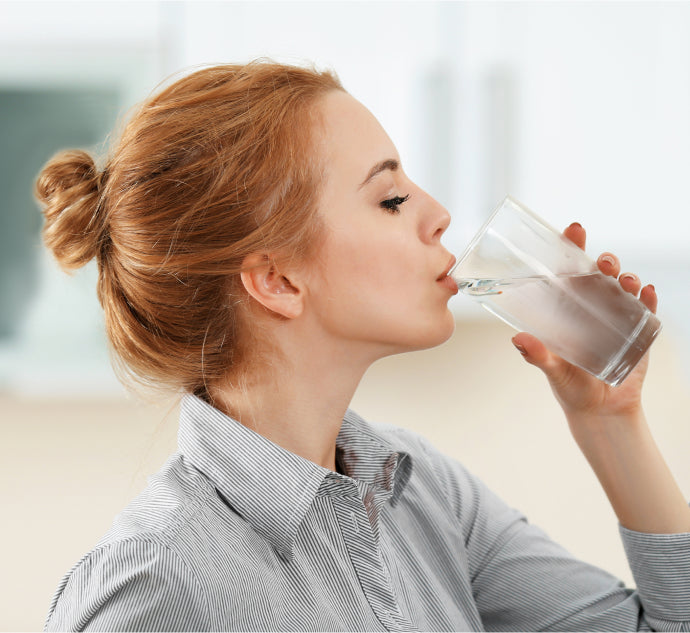 Works Great!
" We have noticed such a change in my sons ability to control his emotions and lessen the severity of his sensory overload outbursts. I noticed even more so when I forgot a few days in row of this! Wow! What a difference. We will be using this for good! "

- Nicole C
Frequently Asked Questions
I Don't Have Gut Problems, Can I Still Benefit From Taking A High Quality Probiotic?
We believe most people are in need of probiotic support. Here's why: Thanks to prescription antibiotics, high carbohydrate diets, fluoridated tap water, and high levels of stress, the good bacteria in our guts are being killed off, and our bodies can't replace them at the rate required for optimal health. In fact, I believe we need to avoid and reduce our consumption of these top 7 probiotic killers:
Prescription antibiotics

Excessive sugar intake

Drinking tap water (chlorine and fluoride)

GMO foods

Eating too many whole grains (plus gluten)

Emotional stress

Exposure to toxins and pesticides
Meanwhile, "bad" bacteria can flourish while the "good" bacteria is killed off, leaving your system out of balance.
What is the Recommended Dosage and How Long Will 60 Servings Last?
1-4 months depending on weight and usage.

We recommend giving ½ scoop daily to a person weighing 50 lbs or less.

For those weighing over 50 lbs, we recommend giving 1 full scoop.

For individuals over 101 lbs, we recommend giving up to 2 scoops.

New to using Bio-Heal? Take 1/2 of the recommended dosage to start. Gradually increase the dosage to the recommended amount over the course of 2 weeks or as you are comfortable.
Are Bio-Heal's ingredients safe and natural?
Yes! All ingredients are natural with no artificial ingredients. Bio-Heal is dairy free, sugar free, wheat free, gluten free and we never add any harmful fillers.
Can Anyone Take Bio-Heal?
100% YES, Bio-Heal will work for anyone who takes it regularly. Bio-Heal's formula is designed for all children and adults looking to improve healthy gut function, fight inflammation and boost the immune system.
The recommended dosage is based on weight so you can make sure you are getting the correct amount no matter what age.
What's the best way to offer this probiotic to my child?
Bio-Heal can be mixed into any food or drink that is room temperature or cooler. We do not recommend serving it in water because your child will be able to see it. It is better disguised in juice or a smoothie or a food such as applesauce, yogurt or cereal.
We recommend adding the powder slowly and stirring it until dissolved if mixing it into a beverage (a small, inexpensive milk frother is ideal for dissolving the powder into a liquid).
Bio-Heal is unflavored and has a natural vitamin essence. The powder mixes easily with your favorite food and drinks.
We do recommend that you do not mix this in front of your child because even though the probiotic is flavorless/odorless, some children are sensitive to even a thought that there might be something new or different in their beverage.
Visit https://edu.allstarnutrition.com/tips for a video with tips and tricks for serving.
Our Bio-Heal probiotic can be mixed into any food or drink that is room temperature or cooler.
Mix into soft foods:
Dairy-free yogurt

Organic applesauce

Organic peanut butter

Dairy-free pudding
Mix into condiments:
Organic ketchup or BBQ sauce

Dairy-free ranch or any dressing

Mustard

Mayonnaise
Mix into drinks:
Organic apple juice

Organic orange juice

Smoothies

Non-dairy yogurt drinks

Organic green juice

Dairy-free chocolate milk (if dairy, must be consumed within the hour)

Organic lemonade
Sprinkle on top of food (once the food has cooled):
Salads

Pasta (can be disguised with parmesan cheese)

Pancakes

Eggs

Oatmeal/Cream of Wheat after it has been cooled
Don't Just Take Our Word For It!